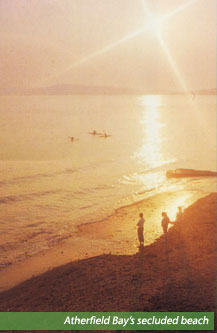 We do not charge extra for single night stays
Please click onwww.wightselfcatering.co.uk for availability, prices and more information on our Self Catering accomodation.
Please look at www.wight-events.co.uk for group bookings and using Atherfield Bay for your event location. Make use of one of the largest classic maple sprung dance floors on the Island, fly kites amongst our twenty acre unspoilt coastal site or surf from Atherfield Bay Beach. We offer taylor made parties & events to you requirements at suprisingly competitive rates. We can cater & accomodate upto 300 people and will take the hardwork out of your Party or Wedding planning!
Click here for current Atherfield Bay Weather: http://www.bbc.co.uk/weather/5day.shtml?id=3168]

WELCOME ACTIVITIES ACCOMMODATION LOCATION
Shepherds Chine, Nr. Chale, Ventnor, Isle of Wight PO38 2JD
Telephone: 01983 740307
Fax: 01983 740022
Email Alexandra and Duncan: [email protected]